About Us
NEW YORK CITY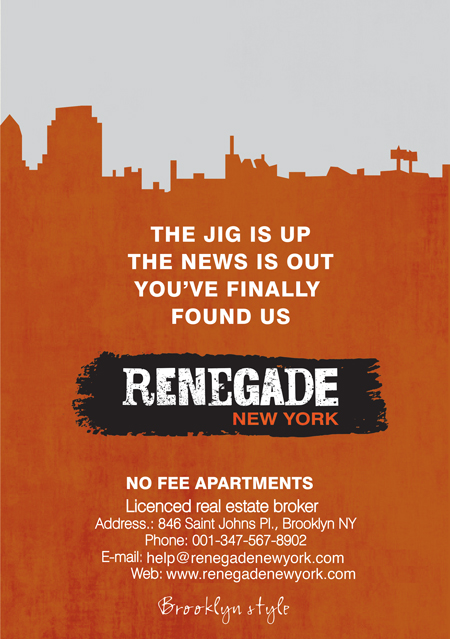 Renegade New York serves the fantastic people of New York City, namely Bushwick within Brooklyn, by matching our customers to great affordable New york city apartments in the most interesting and diverse parts of New York. We offer both traditional apartments for people looking for a new place to rent as well as short term living arrangements that suit those that are new to new york city and aren't ready to make a long commitment just yet. Looking for a new york city hotel room? Why not look at our many overnight rooms with kitchen privileges. Local knowledge from the owners is better than a hotel concierge for a lot less.
As a leader in affordable NO FEE APARTMENT rentals in Brooklyn we take great pride in offering our customers the best apartments in New York City.
Our History
Renegade New York was founded in Brooklyn New York, with the opening of our first office in Bushwick. The company then expanded its operations to Dublin, Ireland serving our customers with great apartments there as well.
Renegade New York quickly realized the huge demand for short term rentals and began providing Brooklyn with short term apartment and room rentals at our Bushwick/Mckibbin location. These furnished rooms are extremely affordable and showcase the artwork of "Gregory". We implement a great automatic room booking system that allows our customers to see exactly what rooms are available and reserve the rooms online. Learn more about our room rentals.
Our Purpose
Offering the best, most affordable apartments that New York City has to offer, and since the beginning of our business matching great tenants to great landlords has always been our purpose. Today when it seems prices and customer service have all taken a turn for the worst, our mission is more important to us than ever. We work hard every day to deliver great apartments, service, and options to all of our very important customers.